RARE Antique CAST IRON and Brass A Kenrick & Sons Coffee Mill Grinder No 2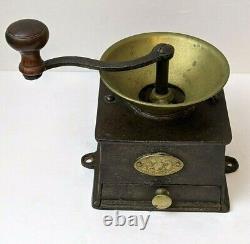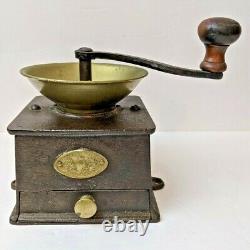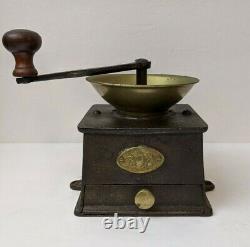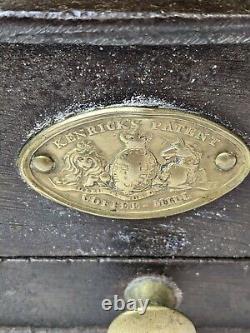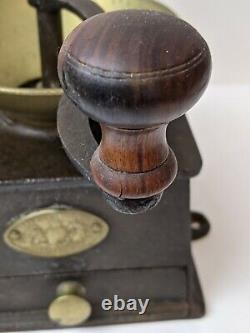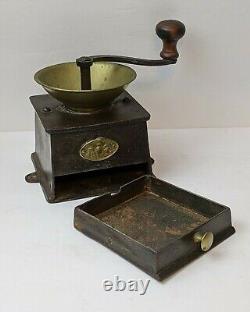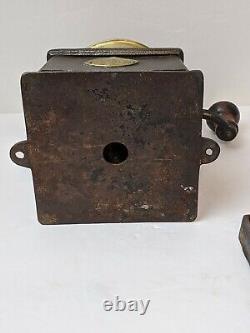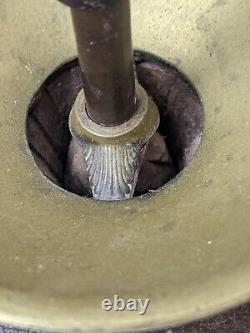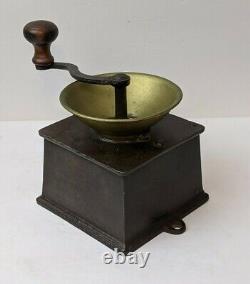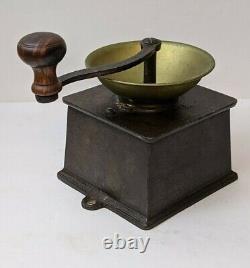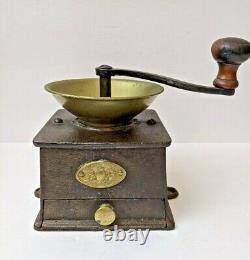 Very Hard to find all original 19th century quality coffee grinder mill by Kenrick & Son of West Bromwich Staffordshire England. This model is the rare tapered square model No 2. It is made of Cast Iron with a brass hopper with a cast iron drawer that has an original brass knob. The grinding handle is a turned hard wood. The ground coffee is collected in the slide out cast iron drawer.
The cast iron base has places on the side for mounting to a kitchen cabinet counter top if desired. The original oval pressed brass nameplate on the front reads "Kenrick & Sons Patent Coffee Mill" The grind size can be adjusted by turning the regulator screw (after removing the drawer) and using a screwdriver through the center hole in the base of the grinder.
It is marked No 2 in back of the hopper. Everything is in working order and there are no chips or breaks. The only thing I noticed is a little oxidation on the inside from being stored and not used. This grinder measures 5" square not including the mounts and is 5" in height to the top of the brass hopper. It is heavy cast iron built to last and weighs close to 5 pounds before packing.
The Archibald Kenrick & Sons Company was founded in 1791 as a quality iron foundry. This coffee grinder dates circa 1890s and will be good to use for another 100 plus years. Please view and enlarge all photos to further aid in description. If you have any questions just ask.

---