Vintage French Coffee Grinder By Peugeot Brothers late 1800's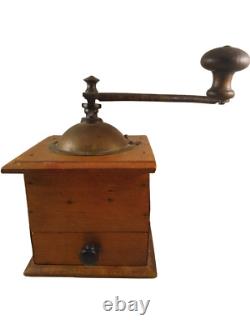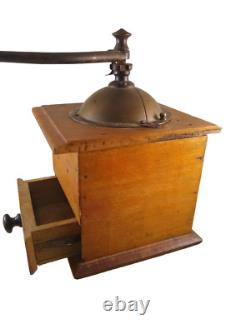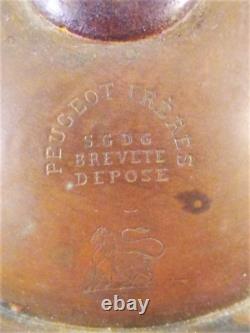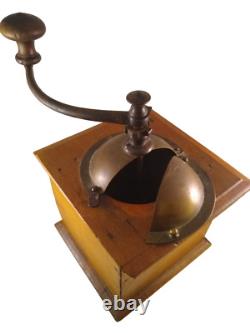 Rare Vintage Peugeot Freres Coffee Mill with Engraved Brass Lion Top. Elevate your kitchen decor with a touch of history and elegance through this exceptional Vintage Peugeot Freres Coffee Mill. Crafted by the renowned Peugeot Company long before their automotive ventures, this coffee mill is a testament to the brand's legacy of quality and innovation.
The engraved brass lion atop this mill is a symbol of its timeless craftsmanship and attention to detail. Produced somewhere between 1870 and 1936 The Peugeot lion Motif on the brass cover, makes it especially valuable. Historical Significance : This unique'boite et tiroir' coffee mill represents the earliest home use coffee grinders crafted and patented by Peugeot Freres.
Own a piece of history that predates the company's automotive endeavors. Engraved Brass Lion Top: The beautiful brass top is adorned with the iconic Peugeot Lion engraving, showcasing the brand's legacy and commitment to excellence.
Adjustable Grinding : Customize your coffee experience by adjusting the size of the coffee grains using the spring screw located at the top. From fine to coarse, enjoy the perfect grind for your preferred brewing method. Aged Elegance : The beautifully aged appearance of this mill tells a story of its journey through time.
It exudes a vintage charm that adds character to any kitchen. Exceptional Woodwork: The light honey-colored woodwork is in impeccable condition, reflecting the mill's well-preserved history. Its craftsmanship is a testament to its enduring quality. Functional Art: Beyond its functionality as a coffee grinder, this piece is a work of art that brings grace and charm to your kitchen.
It's a conversation starter that bridges the past and the present. Add a touch of timeless sophistication to your kitchen with the Vintage Peugeot Freres Coffee Mill. Whether you're an avid collector, a coffee enthusiast, or simply appreciate fine craftsmanship, this piece is a true gem. Make it a part of your daily routine and let its rich history and charm infuse your surroundings.
Dimensions: 5 " x 4" x 4. Weight: 1 lbs 12oz (Unboxed).
We will respond to you within 24 hours and do our best to help you out! Item condition is reflected in the listing photos.
Any condition statement given, as a courtesy to a client, is only an opinion and should not be treated as a statement of fact.

---